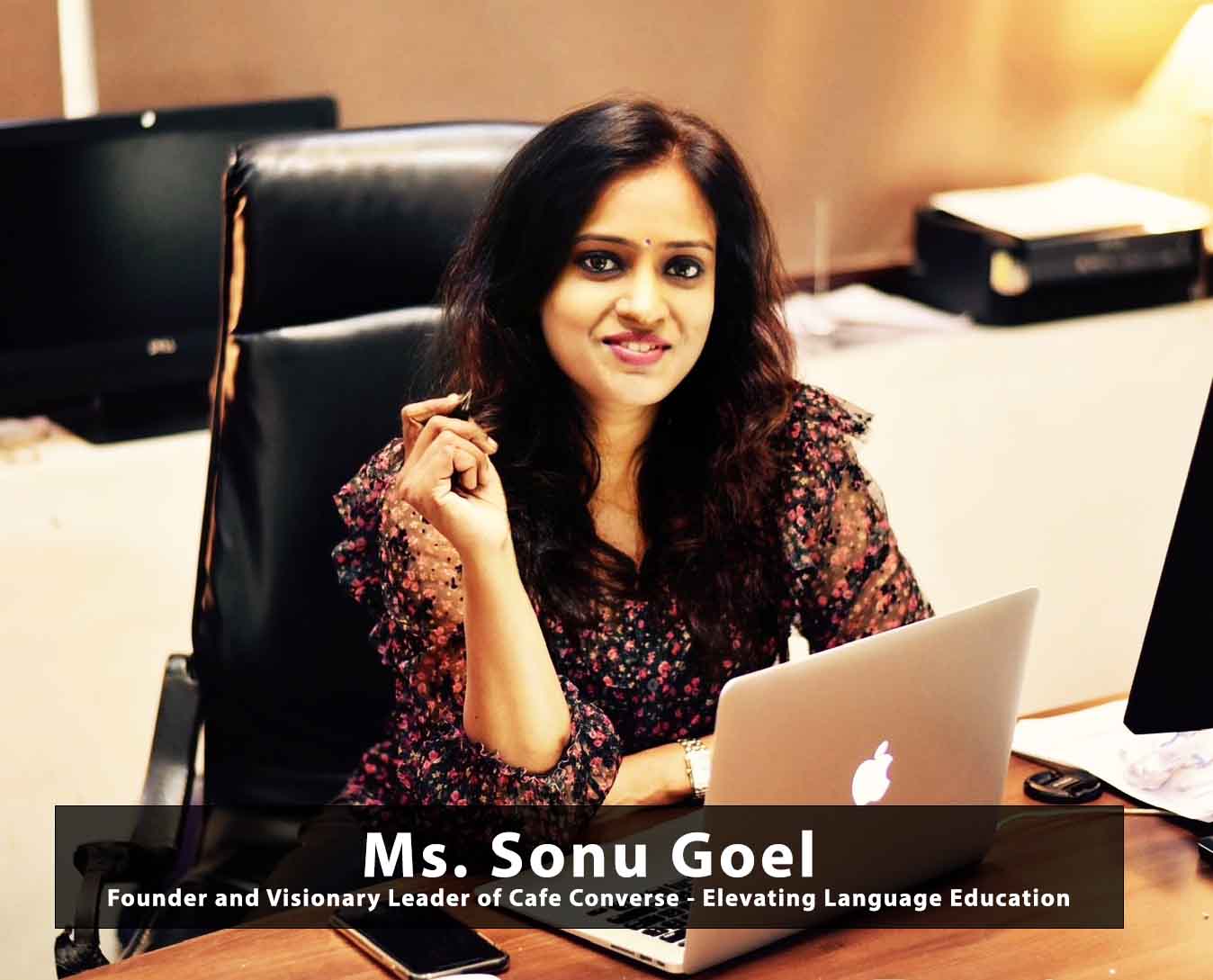 Professional Profile: Ms. Sonu Goel
Founder and Visionary Leader of Cafe Converse - Elevating Language Education
Summary: Driven by an unwavering commitment to fostering linguistic excellence, Ms. Sonu Goel stands as the pioneering force behind Cafe Converse, a renowned institution in Delhi dedicated to the art of spoken English. With an illustrious career spanning over two decades, Ms. Goel has firmly established herself as a luminary in the realm of language education, consistently delivering transformative results. Her multifaceted expertise, remarkable leadership, and relentless pursuit of excellence have shaped Cafe Converse into a powerhouse of language acquisition.
Professional Vision: As India's preeminent English teacher, Ms. Sonu Goel is on a relentless mission to empower individuals with the invaluable gift of eloquent expression. Her unparalleled expertise and dedication have propelled her to the pinnacle of language education in the country. With an unwavering commitment to excellence, she inspires her students to transcend boundaries and soar to new heights of personal and professional success through the mastery of the English language. Ms. Goel's influence as India's top English teacher extends far and wide, shaping the future of countless individuals who aspire to achieve greatness through effective communication.
Sonu Goel's Key Achievements and Experiences:
Founder and Director of Cafe Converse: Established a premier institute renowned for its transformative approach to spoken English education, garnering numerous awards and accolades as Delhi's best institute.
Guest Faculty at MeraPath Education Ltd: Contributed as a distinguished guest faculty member, imparting English language skills and knowledge to BBA students.
Faculty at MeraPath Education Ltd.: Spearheaded English and Fashion Designing courses, demonstrating exceptional teaching acumen for four years.
English Trainer at Heromindmine Pvt. Ltd.: Leveraged three years of experience to provide advanced English training to corporate professionals.
Engagement with P T Tutorials: Nurtured students' language proficiency as an English faculty member for one year.
Cultural and Artistic Leadership: Organized captivating exhibitions of handcrafted paintings and artifacts, fostering artistic talent. Hosted events at the prestigious Trade Fair, Delhi..
FICCI Involvement: Actively contributed to the Federation of Indian Chambers of Commerce and Industry (FICCI) by organizing impactful events and seminars.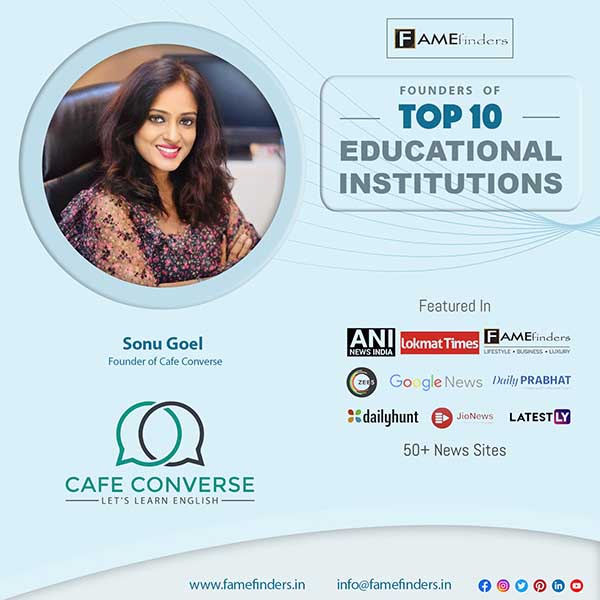 Sonu Goel in Media
Sonu Goel's Extracurricular Engagement:
CELTA Program (British Council): Enhanced teaching skills, 2005
Diploma in Sales and Marketing Management (NIS): Acquired advanced marketing knowledge, 1996-1997.
Bachelor of Commerce (Delhi University): Graduated with distinction, 1993-1996.
Diploma in Computers – Fashion Designing (CATS): Blended creativity with technology, 1994-1995.
Diploma in Fashion Designing: Cultivated fashion expertise, 1992-1994.
Senior Diploma in Vocal Music (Prayag Sangit Samiti, Allahabad): Honed vocal prowess, 1980-1986.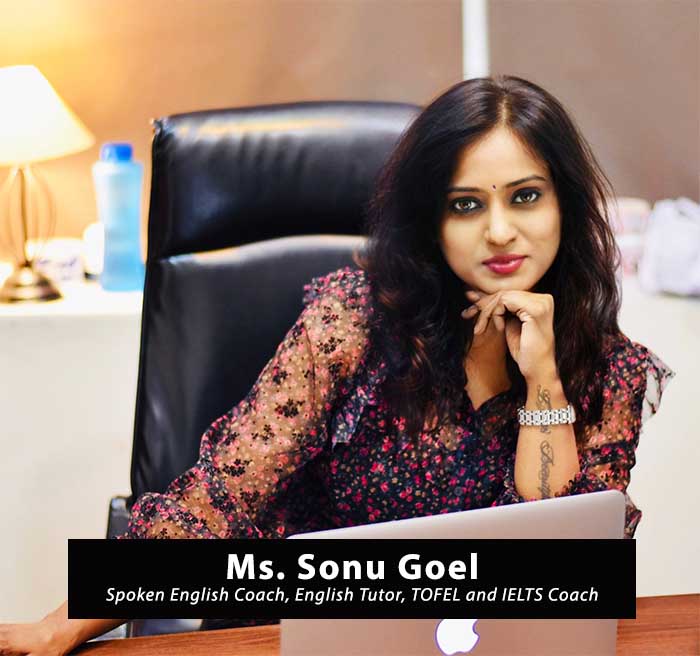 Sonu Goel's Key Strengths:
Visionary Leadership: A mature, self-confident, and dynamic leader who empowers teams to excel.
Dynamic Pedagogy: An energetic educator with a passion for nurturing young minds through creative thinking and motivation.
Adaptability: Thrives in dynamic, ever-changing environments, and is committed to staying at the forefront of educational trends.
Positive Work Ethic: Highly energetic, positive thinker, and unwaveringly hardworking.
Continuous Learning: An ardent advocate for technology adoption and continual professional development.
Sonu Goel's Extracurricular Engagement:
A dedicated participant and organizer of cultural events, consistently winning accolades.
Notable achievements in Cultural and Western Dance competitions.
Active engagement in workshops and initiatives supporting various NGOs.
Ms. Sonu Goel's illustrious journey in language education is underscored by her unwavering dedication to excellence. As the visionary leader behind Cafe Converse, her commitment to empowering individuals through eloquent expression has not only garnered numerous awards and accolades but has also transformed countless lives. Her dynamic leadership, adaptability, and continuous pursuit of excellence make her an exceptional luminary in the field. She remains dedicated to pushing the boundaries of language education, setting new standards of achievement, and inspiring others to do the same.